I am an avid hair color-er. I color my hair all over with a dark color and then I highlight every couple of months. Hair Dye and lighteners are tough on your hair. Coloring your hair can be costly enough, but we all know it's costs to be beautiful. I have found a product that allows you to completely pamper very dry and very damaged color-treated hair!
Naturelle, a division of Zotos, has a new product line, Biotera Ultra Color Care. Biotera marries nature and science to help repair, protect and maintain your hair's beauty.
Naturelle's Biotera Ultra Color Care collection brings lackluster, over-dyed locks back to life. It quenches your hair with deep hydration, but also extends your color and vibrancy for up to 50% longer!
I reviewed the Ultra Color Care Shampoo, Conditioner and 3 Minute Deep treatment. I was blown away by the results!
Scent is one of the first things I notice when I choose a shampoo. The better the smell, the happier my shampoo. That's just the way it is, for me anyway!
Opening this
shampoo
, I noticed that it had a rich, sweet fragrance. I was instantly ready to shampoo my hair. It had a gentle lather but it thoroughly cleansed my hair. My hair was soft and silky only after just shampooing.
The
shampoo
has an anti-fade, sulfate free, paraben free formula that gives your hair that extra TLC it needs.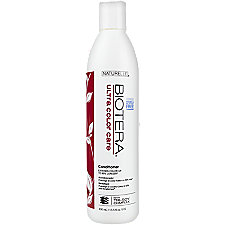 The enticing scent of the Ultra Color Care conditioner was amazing. Also paraben-free and silicone-free, this conditioner skated down my hair with divine ease. Rinsed clean, I had a sleek, polished look and feel.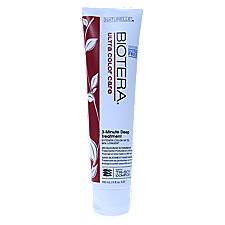 As dry and brittle as my hair is, I definitely needed to utilize the
3 Minute Deep Treatment
which rounds off this trio. This in an intensive deep conditioner that restores shine, softness and manageability in only THREE minutes.
All three formulas are fortified with Tri-Soy Complex, the new signature ingredient of the Biotera line. This scientifically-advanced complex is made up of antioxidant-rich soy oil, soy protein and soya lecithin for exceptional protection, strength and moisture.
After I had styled my hair, these products had left me with a luxuriously, glossy finish and an incredibly sweet, mango aura.

I have fallen in ABSOLUTE LOVE with yet another product line from NATURELLE!
This is the MOST reliable Shampoo and Conditioner for THE BEST price!!
My local
Sally Beauty
had this for 7.99 for the shampoo and the conditioner was on sale for $.99. It's as affordable as Ultra Shampoo and Conditioner gets.
Want to win something from this collection?
Keep checking back for your chance to win!! :)
Can't wait for the giveaway??
See the whole line on Zotos or Sally Beauty Now!
Don't forget to "Like" them on Facebook!
Facebook.com/Naturelle
**Disclaimer: Zotos, inc. provided me with free products to review, I was under no obligation to review it if I did not so choose. Nor was I under any obligation to write a positive review or sponsor a product giveaway in exchange for the free products. All opinions are my own honest opinions on this line.**